Men and women often spend hours imagining the potential results of their cosmetic surgery. Fortunately, with cutting-edge VECTRA® 3D Imaging technology at our Boston practice, those considering aesthetic enhancement may not have to. This state-of-the-art image rendering system is designed to simulate a realistic representation of the possible outcome of treatment so patients can see first-hand how a given procedure may affect their face and body. Plastic surgeon Geoffrey Leber, MD utilizes VECTRA® 3D Imaging at his practice to gain insight into a patient's aesthetic goals, as well as to provide individuals with a realistic preview of what can potentially be achieved with their surgical treatment.
How Does VECTRA® 3D Imaging Work?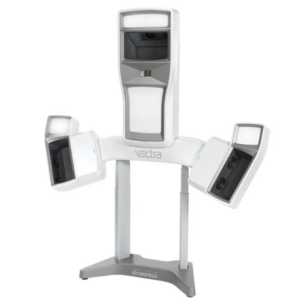 VECTRA® 3D Imaging utilizes advanced computer software that can create a three-dimensional digital image of your possible surgery results. This can better inform your decision to pursue treatment, as well as provide realistic expectations for the final outcome. The process by which the imaging system can capture your anticipated results is simple. VECTRA® technology consists of six high-resolution cameras that are positioned to capture various angles of the planned treatment area. A patient simply stands in front of the cameras while Dr. Leber takes a picture from all six angles at the same time. The software then processes the photos and renders a three-dimensional image on a computer monitor based on the different angles captured. From there, Dr. Leber can use the state-of-the-art VECTRA® modeling software to portray the expected aesthetic outcomes when certain surgical techniques are employed. In general, VECTRA® 3D Imaging can:
Assist in the treatment planning process
Allow patients to view the potential results of surgery
Help Dr. Leber better understand your aesthetic goals
Aid in visualizing the outcome of combination surgeries
This technology is particularly advantageous when considering a Mommy Makeover, as it can sometimes be difficult for patients to visualize how multiple surgeries will affect their overall figure. Thanks to VECTRA® 3D Imaging, the comprehensive changes potentially yielded by combination procedures are easily illustrated in a high-quality, three-dimensional computer image.
Dr. Leber is happy to employ the VECTRA® system at his practice in order to provide more thorough patient education and allow patients to better convey their cosmetic goals.
When Can VECTRA® 3D Imaging Be Used?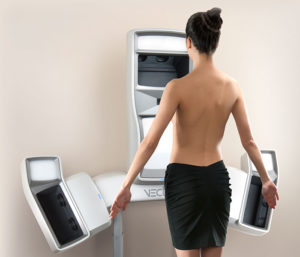 Dr. Leber often uses VECTRA® 3D Imaging during the treatment planning process for breast augmentation and other breast enhancement surgeries. Patients can see how various breast implant shapes may look on their body, as well as how different sizes may affect their overall figure. The technology can also be useful for facial procedures—such as rhinoplasty, facelift, and chin implant surgery—by providing a clearer picture of how the desired changes may appear in relation to your other facial features. Patients considering a tummy tuck, arm lift, or other body sculpting procedure can also use VECTRA® 3D Imaging to visualize how surgery can influence their unique body contour and silhouette.
To learn more about our practice's cutting-edge technology and how it is utilized during your treatment, please contact our practice.