If you're looking to sculpt areas resistant to dieting and exercise, you may consider an arm lift — a surgical procedure designed to tighten and improve the upper arms. The effects of the natural aging process, weight loss, genetics, and gravity often cause an excess amount of skin and fatty tissue to congregate between the inner elbows and underarms. This generally results in a loss of shape and definition in the region that often cannot be effectively improved through natural weight loss alone.
A brachioplasty procedure can address these concerns by removing loose, hanging skin from the area and tightening the underlying muscles, resulting in an enhanced upper arm contour. Beverly Hills-trained plastic surgeon Geoffrey Leber, MD, FACS frequently combines an arm lift with liposuction to restore a smooth, firm, and taut arm appearance.
What is an Arm Lift?
An arm lift is designed to reshape the upper arms. After major weight loss and even following pregnancy, many individuals begin to notice a change in the tone of their upper arms. This region is prone to isolated fat buildup and, when combined with increased skin laxity, the result can be a loss of firmness as well as a sagging or hanging look. Medically known as "brachioplasty," arm lift surgery can repair inelastic tissue causing the appearance of bagginess or "bat wings." Through an incision made discreetly on the underside of the arm, brachioplasty can address stretched skin and restore internal support for the upper arms. The body contouring procedure also tightens weakened musculature in a circumferential fashion and removes excess fat deposits, leaving behind a sharper contour and a more defined silhouette.
What Can an Arm Lift Do for Me?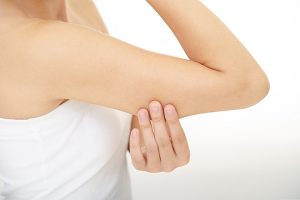 If you experience moderate to severe sagging in the upper arms, an arm lift can be an excellent solution to reestablish firmness and tone. The procedure is frequently performed to address loose, inelastic skin that is unable to contract and tighten around the new arm shape after significant weight loss. In general, a brachioplasty procedure can:
Remove excess skin in the upper arms
Pull remaining skin taut
Tighten the underlying structures that define the arm shape
While the final outcome of surgery will depend on the characteristics of your skin and unique cosmetic goals, an arm lift typically results in a sleeker arm appearance with improved visibility of definition and tone—especially if the brachioplasty procedure is combined with liposuction.
Is an Arm Lift Right for Me?
Those considering an arm lift should be in reasonably good health and not have any future plans for significant weight loss. Losing weight can cause the upper arms to lose shape again; therefore, it's usually best to pursue surgery only after you've reached a stable weight. Other factors that indicate you may be a good candidate for an arm lift include:
You're a non-smoker or you're willing to stop smoking before your procedure and during the recovery period.
You maintain realistic expectations about surgery and have a good understanding of the procedure.
You're bothered by a loss of tone, as well as excess tissue, in the upper arms.
Major weight loss has left you with loose skin throughout the body.
If you would like to address multiple regions affected by excess skin after weight loss, Dr. Leber may recommend a more inclusive treatment plan like a lower body lift. With a lower body lift, you can combine an arm lift with a thigh lift, buttock lift, or abdominoplasty, among other options commonly performed to correct loose, excess skin. Dr. Leber can assess your cosmetic goals during a consultation and formulate an individualized treatment plan for your needs.
How is an Arm Lift Performed?
Dr. Leber performs an arm lift as an outpatient procedure under general anesthesia. An incision that extends from the underarm to the inner elbow allows him to access the supportive tissue, which will then be reshaped to achieve the desired result. Excess skin is removed and the remaining tissue is tightened for a natural-looking contour. Depending on your unique needs and preferences, liposuction may also be utilized to extract isolated fatty deposits and add firmness to the region. Although the duration of the procedure is contingent on the amount of enhancement planned, an arm lift generally takes one to two hours.
Short Scar Brachioplasty
For patients with minimal skin laxity and a small degree of excess skin near the underarm, a short scar brachioplasty may be enough to yield the desired improvement. This technique involves a much shorter incision than is traditionally utilized, with scarring concealed in the armpit. A short scar brachioplasty provides more conservative excision of redundant skin when compared to a full arm lift and achieves some degree of liposuction; however, this approach does not circumferentially remove excess skin in the upper arms, and therefore its benefits can be limited.
Patient Results
Below are a few cases from our extensive gallery, click here to view more.
What is Recovery Like for an Arm Lift?
After surgery, your new arm contour will be immediately noticeable and the outcome should improve as swelling dissipates. A surgical garment or bandages may be temporarily worn to minimize swelling and facilitate the healing process. It is normal to experience post-operative bruising or swelling, and any discomfort can usually be managed with oral pain medication. Most patients make a full return to normal activities within one to two weeks, although the specific duration of your healing period will depend on your treatment plan. While the effects of aging will continue, an arm lift is designed to provide long-lasting aesthetic enhancement and the surgical outcome can be prolonged through maintenance of a healthy lifestyle.
Will I Have Noticeable Scars After an Arm Lift?
All surgical procedures will leave a scar to some extent, but the incision used for arm lift surgery is placed inconspicuously on the underside of the arm or near the armpit. This careful placement allows minimal visible scarring after the procedure, which many patients report fades in color over the years. We invite you to view our before-and-after photos of previous patients who received an arm lift to get an idea of the arm lift scars you can expect after surgery.
Scars after the arm lift procedure can become less noticeable over time, but a few tips can further encourage post-operative scarring to lighten. It's important to closely adhere to Dr. Leber's aftercare instructions regarding wound care, as this helps optimize the healing process. Applying sunscreen to the region and using scar lightening creams can also work to reduce the appearance of arm lift scars.