For women who have lost one or both breasts to cancer removal surgery, breast reconstruction is a procedure designed to recreate as close to a natural breast appearance as possible. While not all women who have received a breast cancer diagnosis undergo breast reconstruction, the decision to undergo reconstructive surgery is generally pursued to restore one's body image and/or lessen the physical and emotional impact of a unilateral or bilateral mastectomy. Using breast implants, a patient's own tissue, or a combination of both approaches, breast reconstruction from our experienced plastic surgeon can be utilized to restore the size, shape, and volume of the breast(s) as accurately as possible. Depending on your preferences, nipple reconstruction can also be performed to allow a closer imitation of the original breast.
"Beauty is in the Details…"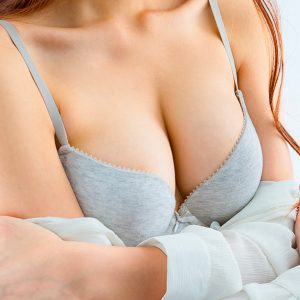 Breast reconstruction is a highly complex procedure usually performed in multiple stages. The intricate nature of properly recreating a natural breast appearance in such a way that allows an exceptional aesthetic result requires extensive experience in the latest and most effective reconstruction techniques. Throughout Dr. Geoffrey Leber's career, he has successfully performed a comprehensive range of reconstruction procedures yielding beautiful results, including burn reconstruction, pediatric plastic surgery, hand reconstruction, craniofacial trauma reconstruction, and free tissue transfer. Breast reconstruction utilizes not only detailed mastery of technique, but also requires an aesthetic eye to create something beautiful from nothing. This experience has given him the necessary tools to perform all types of aesthetic plastic surgery from an innovative and creative perspective.
He is committed to supporting each patient on their individual journey and possesses a deep understanding of how to approach and execute the different phases of surgery and recovery. With constant consideration of your unique needs and surgical goals, Dr. Leber can provide you with the best cosmetic outcome possible.
Who is a Candidate for Breast Reconstruction?
Women who wish to recreate the appearance of their breast(s) after losing part or all of a breast to mastectomy, lumpectomy, congenital deformity, or traumatic injury can typically benefit from breast reconstruction. The procedure can also be utilized to correct a previous breast reconstruction or repair breast defects resulting from radiation therapy. Ideal candidates for surgery are able to cope with their cancer diagnosis and resulting treatment while having no other underlying medical conditions. Additionally, those interested in breast reconstruction should have the following considerations in mind:
The personal nature of the surgery, as it should not be pursued under pressure or influence from loved ones
The potential length of the process, as breast reconstruction is usually achieved in multiple stages
Realistic expectations for the outcome, as a reconstructed breast will not feel like a natural breast
The most beneficial time to undergo the process, as some women may not want to make decisions regarding breast reconstruction while undergoing cancer treatment
During an in-depth consultation with Dr. Leber, you will discuss your surgical goals, concerns, physical and emotional health, and medical history. In some cases, the first step in breast reconstruction can be performed at the same time as mastectomy. In others, patients prefer to postpone their breast reconstruction until after their cancer treatments are complete. You and Dr. Leber can work together to determine the most ideal treatment plan for your needs.
How is Breast Reconstruction Performed?
The nature of the breast reconstruction procedure varies according to each patient's unique situation. The techniques utilized during surgery typically depend on a number of factors, including:
The size of the original breast and the amount of remaining breast tissue
Whether multiple procedures are required to achieve the desired outcome
Whether reconstruction is being pursued at the time of mastectomy or after cancer treatment
There are two primary methods of performing breast reconstruction, with additional techniques utilized when necessary. Dr. Leber will determine the most effective course of action based on your unique needs and walk you through every step of the breast reconstruction process.
Tissue Flap Reconstruction
Tissue flap reconstruction, also referred to as autologous reconstruction, uses a patient's own tissue to form and recreate the breast mound. This tissue is borrowed from a donor site elsewhere on the body and can shrink and grow proportional to one's weight fluctuation, allowing a breast constructed with tissue flaps to more closely mimic the behavior of a natural breast than other approaches. Tissue flaps are generally borrowed from the abdomen, upper back, buttocks, or thighs, depending on where there is sufficient donor tissue. While a reconstructed breast can never look or feel exactly like a natural breast, this approach has been known to provide more natural-looking results when compared to other reconstruction techniques. However, flaps require healthy blood vessels for the tissue's blood supply and some individuals who use tobacco or have a history of uncontrolled diabetes may not be good candidates for autologous reconstruction.
Implant-Based Reconstruction
Depending on each patient, the saline or silicone implants used for breast augmentation may be utilized in combination with, or as an alternative, to tissue flap reconstruction. An implant can effectively recreate the breast mound for a natural-looking breast appearance, with a tissue expander used when necessary to provide proper coverage for the implant. Various implant sizes, shapes, and degrees of projection are available to accommodate each patient's needs and cosmetic desires. It is not uncommon to use an implant in combination with fat grafting or tissue substitute techniques to allow the best aesthetic result possible. When only one breast is being reconstructed, Dr. Leber may recommend an additional breast reduction or breast lift procedure to improve the symmetry between the reconstructed breast and the natural breast.
Patient Results
Below are a few cases from our extensive gallery, click here to view more.
What is Recovery Like for Breast Reconstruction?
Recovery from breast reconstruction varies from patient to patient and is dependent on the techniques used to reconstruct the breast. If reconstruction was pursued immediately following mastectomy, a brief hospital stay may be necessary. After surgery, individuals may be given a special bandage or support bra to minimize swelling and support the newly constructed breast(s). The healing process will be gradual and any discomfort can usually be managed well with oral pain medication.
Because of the complex nature of breast reconstruction, most women can make a full return to work and daily activities within four to six weeks. Patients are typically highly satisfied with the aesthetic outcome, which will unfold slowly, and consider breast reconstruction a very rewarding procedure to restore the breast shape and improve one's body image following cancer removal surgery.
To learn more about breast reconstruction, or to schedule a consultation with Dr. Leber, please contact us today.