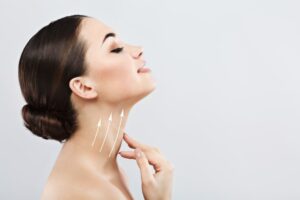 In a world of constant "selfies" and posting on social media, many patients visit our Boston practice in search of solutions to reduce excess fullness in their neck. Commonly known as a "double chin," this feature typically develops due to fat cells accumulating in the submental area. This is especially true when patients get older, have an unhealthy lifestyle, or are genetically predisposed to fat buildup. Like stubborn fat found around the body, excess facial fat can be particularly resistant to dieting and exercise. Dr. Geoffrey Leber, our board-certified and fellowship-trained plastic surgeon, has helped countless patients enjoy a sharper, sleeker contour in the neck by developing an optimal treatment plan for each individual's needs.
A transformative procedure to reduce fat under the chin involves neck liposuction, which utilizes a narrow cannula to suction out excess fat cells. The neck then conforms around the face's new contours, allowing a slimmer and more youthful look. Facial liposuction can accomplish a number of goals, including the ability to:
Address stubborn fat and reduce a "double chin"
Reshape the neck and slim the face
Contour the lower face to obtain a sharper jawline
Improve the neck and facial profile
Best of all, incisions are hidden along the contours of the neck and jawline for refined and natural-looking enhancement. When compared to other surgical procedures, neck liposuction also offers a very minimal and tolerable recovery period.
Neck liposuction can be a relatively straightforward and extremely effective procedure to slim your face and reduce a "double chin." Don't hesitate to contact Dr. Geoffrey Leber at our Boston office for more information about our treatment options, or to schedule a consultation.