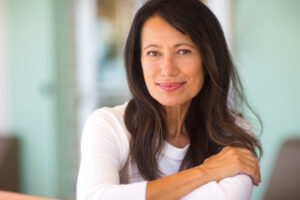 In recent years, the popularity of blepharoplasty — commonly known as "eyelid surgery" — has skyrocketed as more and more individuals seek out long-term solutions to reduce aging around the eyes. Lax eyelid skin and wrinkles are among the most visible indications of advanced age in the eyelids, which can both cause patients to be perceived as perpetually tired, fatigued, or stressed regardless of how they're actually feeling. There are many cosmetic and functional reasons why both men and women may consider undergoing blepharoplasty, including to:
Lift descended or hanging upper eyelid skin, which can "hood" over the eyes and partially droop into a patient's vision
Smooth puffiness and under-eye bags, thereby improving the appearance of dark circles under the eyes
Get rid of excess or stretched skin around the eyelids causing droopiness, wrinkles, and "crow's feet"
Correct laxity in the lower eyelid that may be exposing the normally concealed tissue underneath the iris
Ultimately, many patients simply pursue eyelid surgery to make their outward appearance reflect how energetic they feel on the inside. When performed correctly by a fellowship-trained and board-certified plastic surgeon, blepharoplasty can make the eyelid contours look more youthful without any obvious indications of surgery. Thanks to the procedure's reputation for achieving natural-looking and long-lasting results, blepharoplasty is considered one of the most frequently performed facial plastic surgeries available.
At our Boston practice, Dr. Geoffrey Leber can design a custom blepharoplasty treatment plan that's personalized to achieve your desired outcome. Contact our team today to schedule a consultation with Dr. Leber or to speak with a friendly member of our office.