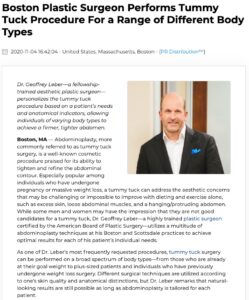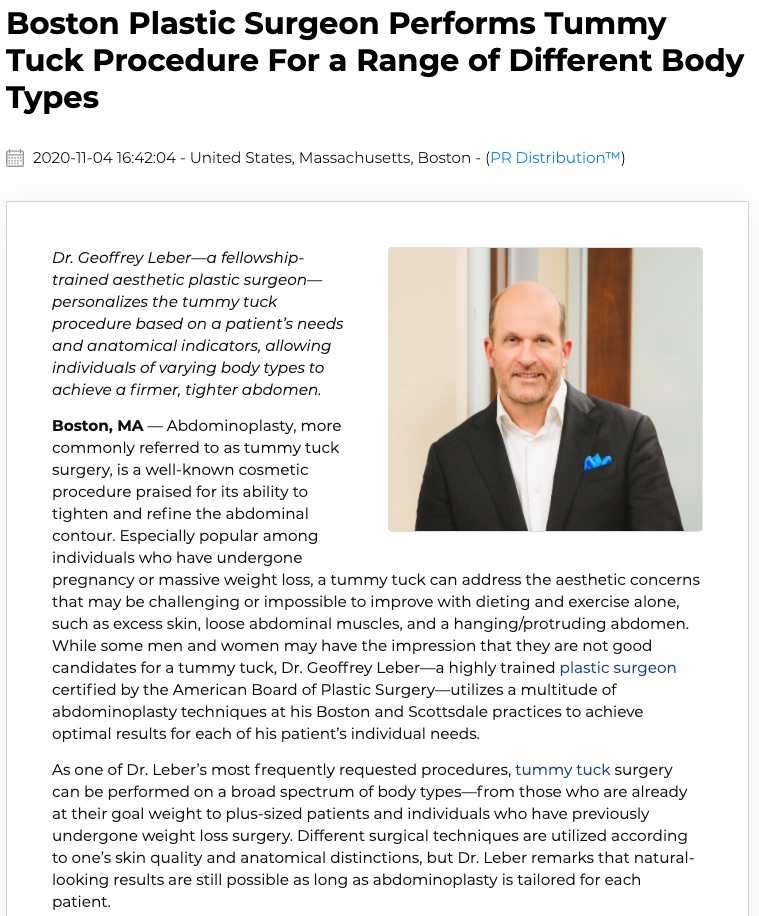 Dr. Geoffrey Leber—a fellowship-trained aesthetic plastic surgeon—personalizes the tummy tuck procedure based on a patient's needs and anatomical indicators, allowing individuals of varying body types to achieve a firmer, tighter abdomen.
Boston, MA — Abdominoplasty, more commonly referred to as tummy tuck surgery, is a well-known cosmetic procedure praised for its ability to tighten and refine the abdominal contour. Especially popular among individuals who have undergone pregnancy or massive weight loss, a tummy tuck can address the aesthetic concerns that may be challenging or impossible to improve with dieting and exercise alone, such as excess skin, loose abdominal muscles, and a hanging/protruding abdomen. While some men and women may have the impression that they are not good candidates for a tummy tuck, Dr. Geoffrey Leber—a highly trained plastic surgeon certified by the American Board of Plastic Surgery—utilizes a multitude of abdominoplasty techniques at his Boston and Scottsdale practices to achieve optimal results for each of his patient's individual needs.
As one of Dr. Leber's most frequently requested procedures, tummy tuck surgery can be performed on a broad spectrum of body types—from those who are already at their goal weight to plus-sized patients and individuals who have previously undergone weight loss surgery. Different surgical techniques are utilized according to one's skin quality and anatomical distinctions, but Dr. Leber remarks that natural-looking results are still possible as long as abdominoplasty is tailored for each patient.
Among the people who commonly pursue abdominoplasty include individuals left with loose, excess skin after losing more than 100 pounds. Dr. Leber states that performing a tummy tuck on previous bariatric patients can be more complex since there is often a significant loss in skin elasticity, but he clarifies that a beautiful outcome can still be achieved through techniques like recontouring and removing hanging skin in the abdominal area.
In treating patients who exhibit severe diastasis recti (the separation of abdominal muscles from the midline), Dr. Leber works to correct the loss of shape in the abdominal wall. This is accomplished by restoring the musculature to its original position and folding/suturing excess tissue, resulting in successful reparation of the muscles as well as a flatter, more contoured look in the abdomen. Dr. Leber comments that a tummy tuck can also help plus-sized patients to sculpt their figure by restoring the abdominal wall with internal sutures. This, with or without the addition of liposuction in the back and flanks, can yield a dramatic aesthetic improvement while still appearing natural.
In order to help individuals further understand the results that are possible with a tummy tuck, Dr. Leber maintains an extensive and diverse online gallery consisting of over 10,000 before-and-after photos from abdominoplasty and other cosmetic surgeries, such as breast augmentation and a Mommy Makeover. According to Dr. Leber, showcasing these transformations is essential to giving potential patients the resources they need to form realistic expectations of what plastic surgery can achieve.
While abdominoplasty can be a versatile procedure that allows a myriad of patients to achieve their ideal physique, Dr. Leber recommends an in-person or virtual consultation to definitively determine whether you can benefit from tummy tuck surgery. This meeting typically serves as a cursory introduction to the procedure so patients can learn the risks and benefits of a tummy tuck, as well as the types of results that are possible with body contouring surgery.
About Geoffrey E. Leber, MD, FACS
Dr. Geoffrey Leber is a board-certified and fellowship-trained plastic surgeon based in Boston, MA and Scottsdale, AZ. With a focus on cosmetic surgery for the face, breasts, and body, Dr. Leber maintains two successful practice locations near the East and West coasts respectively. Dr. Leber belongs to many national professional organizations, including the American Society for Aesthetic Plastic Surgery (ASAPS) and the American Society of Plastic Surgeons (ASPS). He is also a Diplomate of the American Board of Plastic Surgery and a Fellow of the American College of Surgeons. Dr. Leber is well-known for his outstanding patient care and was voted among the "10 Best Plastic Surgeons in Arizona," as well as a "Top Doctor 2020." Dr. Leber is available for interview upon request.
To learn more, please visit doctorleber.com or facebook.com/GeoffreyLeberBoston.
Contact:
Geoffrey E. Leber, MD, FACS
9 Newbury Street, 6th Floor
Boston, MA 02116
(617) 444-9444
Rosemont Media
(858) 200-0044
www.rosemontmedia.com